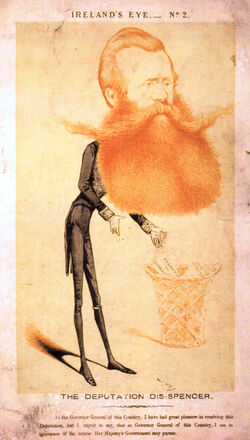 Ireland's Eye was a satirical magazine published from 1874 to 1875 in Dublin by Christopher Smyth. It was founded by John Fergus O'Hea, formerly chief artist of Zozimus, which had folded in 1872, and Edwin Hamilton; Richard Dowling, who had edited Zozimus, was its first editor. Each issue featured a caricature of a notable person, drawn by O'Hea under the name "Spex", and two editions of each issue were published, one at 6d with the cartoon in colour, the other at 3d with the cartoon in black and white. When it folded, Hamilton and O'Hea revived Zozimus as Zoz.
References
Edit
B. P. Bowen, "Dublin Humourous Periodicals of the 19th Century", Dublin Historical Record Vol 13 No 1, 1952, pp. 2-11
Ad blocker interference detected!
Wikia is a free-to-use site that makes money from advertising. We have a modified experience for viewers using ad blockers

Wikia is not accessible if you've made further modifications. Remove the custom ad blocker rule(s) and the page will load as expected.