Ad blocker interference detected!
Wikia is a free-to-use site that makes money from advertising. We have a modified experience for viewers using ad blockers

Wikia is not accessible if you've made further modifications. Remove the custom ad blocker rule(s) and the page will load as expected.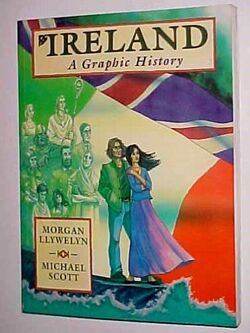 Ireland: a Graphic History is a graphic novel written by Michael Scott and Morgan Llewellyn and illustrated by Eoin Coveney. It was published by Dublin publisher Gill & McMillan Ltd in 1995.
It contains twelve tales from various periods of Irish history, bookended by a framing sequence set in 1995 as the troubles in Northern Ireland draw to a close.
Prologue - 1995
The Mystery of Newgrange - 3000 BC
The Fire on the Hill: St Patrick - 432 AD
Viking - c. 800
Brian Boru - 1074
A Wedding in Waterford: Strongbow and Aoife - 1170
The Long March - 1602
Nits Make Lice: Cromwell - 1649
Orange and Green: The Battle of the Boyne - 1690
Who Fears to Speak of '98 - 1802
Famine: The Hungry Years - 1849
The Uncrowned King - 1879
The 1916 Rising - 1916
The Troubles - 1995
External links
Edit