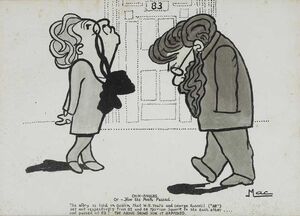 Isabella Mary Macnie was born in Dublin on 9 August 1869, daughter of George Macnie, a Scottish master printer and justice of the peace. She was Irish Ladies' Croquet Champion in 1907, and turned to cartooning in her fifties, under the pen-name Mac. At a dinner party she mentioned to the editor of The Irish Times that she saw people in geometric shapes, and when asked what she meant she demonstrated with one of the earliest "Mac" cartoons. In 1925 she published a book of caricatures with accompanying satirical verses, The Celebrity Zoo. She died in April 1958.
References
Edit
Ad blocker interference detected!
Wikia is a free-to-use site that makes money from advertising. We have a modified experience for viewers using ad blockers

Wikia is not accessible if you've made further modifications. Remove the custom ad blocker rule(s) and the page will load as expected.