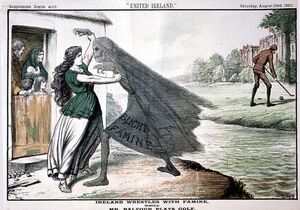 John Dooley Reigh (b. Dublin, c. 1851;[1] d. Manchester, 25 February 1914) was a political cartoonist. Little his known of his early life. In 1875 he painted a banner for the Regular Carriers in Dublin. He drew cartoons for Zoz, which closed in 1877. By the early 1880s he was creating a weekly colour cartoon for the Saturday edition of United Ireland, which were generally favourable to the paper's founder Charles Stewart Parnell and the Irish Parliamentary Party. His work also appeared in The Nation and The Shamrock. His pencil portrait of Parnell, dated 1891, is in the National Gallery of Ireland. Parnell himself said "Reigh was the only one who could do justice to my handsome face."
↑

In the 1901 (31 March) census he's living in 64 Halliford Street, Islington, London, is said to be 50 and married and to have been born in Dublin. His 18-year-old daughter Clara and 13-year-old son John, both born in Dublin, and a visitor, John Joseph Hickie, 75 years old, from Dublin and described as an assistant, are present, but Reigh's wife is not. In the 1911 (2 April) census he's living in 39 St. Dover St, Southwark, London, is said to be 59, a widower, and to have been born in Dublin. His 23-year-old daughter Mary and 22-year-old-son John Henry, both born in Dublin, are living with him.
References
Edit
Online reference
Edit
Ad blocker interference detected!
Wikia is a free-to-use site that makes money from advertising. We have a modified experience for viewers using ad blockers

Wikia is not accessible if you've made further modifications. Remove the custom ad blocker rule(s) and the page will load as expected.