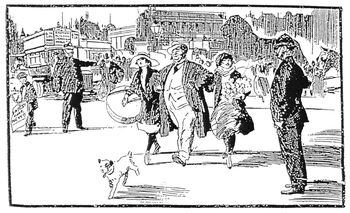 John Louis Smyth, born in Dublin c. 1880[1] and described as a "small Irishman",[2] was an illustrator who worked on Amalgamated Press's comics, including Illustrated Chips, Comic Cuts, Jester, Wonder, Puck, Film Fun and Penny Pictorial, and story papers, like Boy's Friend, Boy's Realm, Boy's Herald, Girl's Friend, Girl's Reader, Young Britain, The Bullseye and Dreadnought, between 1904 and 1925. He was a favourite artist of editor/writer Harold Garrish, who assigned him to illustrate many of his serials, including "The Girl in the Scarlet Mask", "The Iron Conqueror" and "Springheel Jack" in Jester, and often gave him the rare honour of a byline. He also worked on Ward Lock's Windsor Magazine and Pearson's The Scout about 1908-1909. From the mid-1920s on he worked for women's weeklies like Peg's Paper, and the nursery comics Chick's Own, Wonderland Weekly, Playtime and Bo-Peep, using a simpler style. A background drawing of Smyth's of a tiger on its hind legs is said to have been the inspiration for the successful comic character Tiger Tim.[3] He also illustrated books, including an edition of Jules Verne's Around the World in Eighty Days in 1922.[4] At the time of the 1911 census he was living at 8 Saltoun Road, Brixton with his widowed mother, Margaret.[5] Clark believes he "may have died in the 1930s". A John L. Smyth died in Lambeth in the 3rd quarter of 1928, aged 49 - he appears a likely candidate for our man.
References
Edit
Ad blocker interference detected!
Wikia is a free-to-use site that makes money from advertising. We have a modified experience for viewers using ad blockers

Wikia is not accessible if you've made further modifications. Remove the custom ad blocker rule(s) and the page will load as expected.