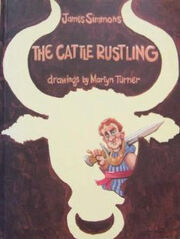 James Simmons (b. Derry, 14 February 1933, d. 20 June 2001) was a poet, critic and songwriter. He was the writer of The Cattle Rustling, a cartoon retelling of the Irish epic Táin Bó Cúailnge illustrated by Martyn Turner and published by Fortnight Educational Trust in 1991, and a 1992 play of the same name.
References
Edit
Online reference
Edit
Ad blocker interference detected!
Wikia is a free-to-use site that makes money from advertising. We have a modified experience for viewers using ad blockers

Wikia is not accessible if you've made further modifications. Remove the custom ad blocker rule(s) and the page will load as expected.