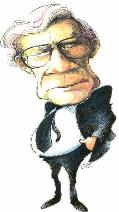 James T. Campbell graduated from Belfast College of Art in 1969 and joined Kinney/Dobson Design Associates, where he worked on mosaic murals, poster design and graphics for the BBC. He drew cartoons and topical illustrations the Belfast Telegraph for many years. In recent years he has worked as a freelance illustrator and caricaturist.
External links
Edit
Ad blocker interference detected!
Wikia is a free-to-use site that makes money from advertising. We have a modified experience for viewers using ad blockers

Wikia is not accessible if you've made further modifications. Remove the custom ad blocker rule(s) and the page will load as expected.