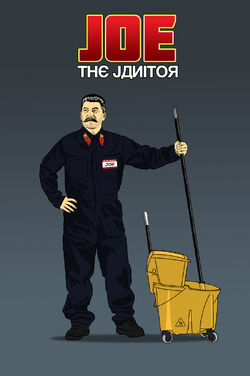 Joe the Janitor is a forthcoming comic by Viv Duignan, with character design by Gary Reynolds. The Premise: Joseph Stalin has been ejected from Hell and cruely reincarnated as lowly janitor in a North Dublin Christian Brothers School as punishment. His adventures involve battling local chavs, Vatican Hitmen, and the day to day struggles of coping in modern Irish suburbia. A preview of the strip appeared in Tommie Kelly Presents.
Ad blocker interference detected!
Wikia is a free-to-use site that makes money from advertising. We have a modified experience for viewers using ad blockers

Wikia is not accessible if you've made further modifications. Remove the custom ad blocker rule(s) and the page will load as expected.