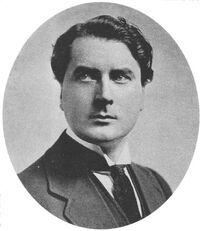 See also the contemporary Derry-based artist John Campbell
John Patrick Campbell (b. Belfast, 7 March 1883; d. New York, 19 August 1962) was an illustrator, caricaturist, political cartoonist, watercolourist and theatre designer from Belfast who often signed his work as Seaghan MacCathmhaoil. He was the brother of the poet Joseph Campbell.
The son of a road contractor, he attended Belfast School of Art until about 1905, and won two bronze medals in national competitions for art schools in Britain and Ireland. Influenced by Art Nouveau, Art Deco and Celtic ornamental styles, he was one of the most prominent artists of the Irish Revival, and illustrated numerous books on Irish legends and folklore. His illustrations of Donegal peasants and musicians from one such book drew comparison to the work of Jack Butler Yeats. He is perhaps best known for his illustrations for Mary Hutton's verse translation of the Táin, commissioned in 1907 but not published until the second edition in 1924.
He drew cartoons and caricatures for Nomad's Weekly (1904, 1908-1911), Bulmer Hobson's The Republic (1907) and The New Age (1909), and contributed drawings and cover designs to Ulad (1904-1905), and The Shanachie (1906).
He was also an actor and theatre designer with the Ulster Literary Theatre, notably appearing in and designing costumes for The Enthusiast (1904) and The Pagan (1905). A theatre tour took him to New York in 1912, where he stayed for the rest of his life. In 1913 he was director of the Irish Historic Pageant. In 1925 he designed sets, props and costumes for a New York production of J. M. Synge's Deirdre of the Sorrows. An exhibition of his drawings was held the following year in the School of Irish Studies, a cultural centre founded by his brother Joseph, and in 1927 he drew a colour cover for the Sunday World Magazine, illustrating an article on "St. Patrick and the Shamrock". little further is known of him until his death at the age of 79.
References
Edit
Paul Larmour, "John Campbell (1883-1962), an artist of the Irish Revival", Irish Arts Review Yearbook Vol 14 (1998), pp. 62-73
Online reference
Edit
Ad blocker interference detected!
Wikia is a free-to-use site that makes money from advertising. We have a modified experience for viewers using ad blockers

Wikia is not accessible if you've made further modifications. Remove the custom ad blocker rule(s) and the page will load as expected.