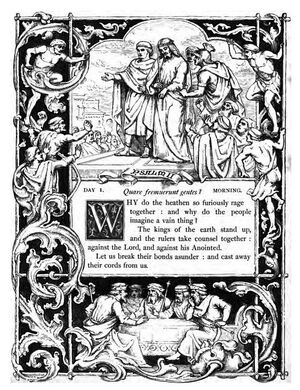 John Franklin, born in Dublin c. 1807, was an Irish landscape, historical and architectural painter and illustrator. He studied at the RDS Schools and exhibited at the Royal Hibernian Academy from its foundation in 1826, before relocating to London in 1828. He was a prolific book illustrator in the 1850s.
Books illustrated
Edit
Mrs S. C. Hall, Ireland: its Scenes and Character, 1841
Mrs S. C. Hall, Midsummer Eve, 1842
Parables of Our Lord, 1851
Mrs S. C. Hall, Stories of the Irish Peasantry, 1852
William H. G. Kingston, Seven Champions of Christendom, 1861
The Psalms of David, 1862
Poets of the West
References
Edit
Simon Houfe, The Dictionary of 19th Century British Book Illustrators, Antique Collectors' Club, 1996, p. 142
Ad blocker interference detected!
Wikia is a free-to-use site that makes money from advertising. We have a modified experience for viewers using ad blockers

Wikia is not accessible if you've made further modifications. Remove the custom ad blocker rule(s) and the page will load as expected.