John I. White is a member of Illustrators Ireland, based in Dublin. Beginning in 2010, he created the 200 page webcomic Star Wars: age 9. It reconstructs the complete story of 1977's Star Wars from his various childhood attempts to adapt the film, when the Star Wars phenomenon was actually taking the world by storm. He's also filled in some gaps with newly-drawn pages. Then he created Alien age 11 in the same fashion.
In September 2014 he abandoned the comic Imaginary Machine Gun' for a more positive, nostalgic and fun comic entitled Between * Wars. It's based on happy childhood memories of the late 1970s and the popular culture of that time.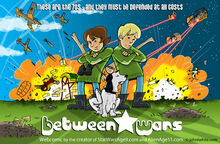 External links
Edit
Ad blocker interference detected!
Wikia is a free-to-use site that makes money from advertising. We have a modified experience for viewers using ad blockers

Wikia is not accessible if you've made further modifications. Remove the custom ad blocker rule(s) and the page will load as expected.