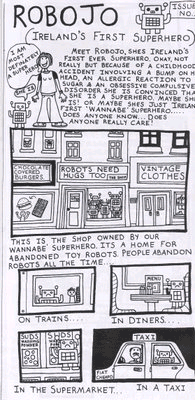 Jolien Hampson is the creator of Robojo (2005), a small press comic about an Irish girl who by day runs a shop rehabilitating abandoned robots, and by night is a superheroine. At least six issues were published. She has also contributed to the Irish Comic Challenge. She teaches animation in Colaiste Dhuligh, Raheny, Dublin.
External links
Edit
Ad blocker interference detected!
Wikia is a free-to-use site that makes money from advertising. We have a modified experience for viewers using ad blockers

Wikia is not accessible if you've made further modifications. Remove the custom ad blocker rule(s) and the page will load as expected.