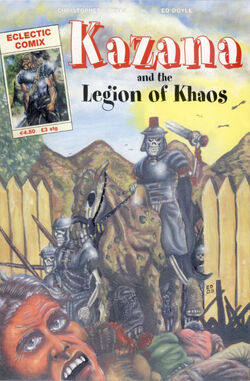 Kazana and the Legion of Khaos is a fantasy comic by writer Christopher Atkins and artist Ed Doyle, published by Doyle's Eclectic Comics label in 2004. It was printed at A4 size, 24 pages in full colour. It is a sequel to Doyle's The Quest of Kazana (2003).
External links
Edit
Ad blocker interference detected!
Wikia is a free-to-use site that makes money from advertising. We have a modified experience for viewers using ad blockers

Wikia is not accessible if you've made further modifications. Remove the custom ad blocker rule(s) and the page will load as expected.