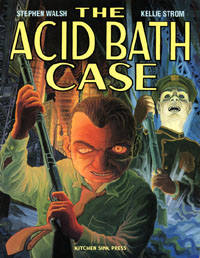 Kellie Strøm is a Danish/Irish cartoonist and illustrator currently based in London. He was born in Copenhagen, Denmark, in 1967, to an Irish mother and a Danish father, and grew up in Ireland. From the age of fourteen his illustrations were appearing in newspapers and magazines in Galway, Dublin, London and Copenhagen.
He drew the Harvey Award-nominated graphic novel The Acid Bath Case, written by Stephen Walsh and published by Kitchen Sink Press in 1992, and created Airforce Amazons, which has appeared in a number of European small press publications. He contributed to The Yellow Press in the 1990s. He has drawn comic strips for Vrij Nederland magazine, the 9-11: Artists Respond anthology, and Dark Horse's Star Wars Tales. He has written and illustrated a children's book, Sadie the Air Mail Pilot, and has produced illustrations and design work for the BBC's Jackanory, the Sci-Fi Channel's Tin Man, a promotional video for the Kaiser Chiefs, and a stage production of Dr. Dolittle with Jim Henson's Creature Shop.
External links
Edit
Online reference
Edit
Wikia: Star Wars
Ad blocker interference detected!
Wikia is a free-to-use site that makes money from advertising. We have a modified experience for viewers using ad blockers

Wikia is not accessible if you've made further modifications. Remove the custom ad blocker rule(s) and the page will load as expected.