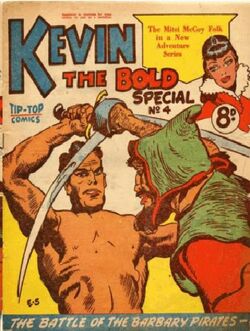 Kevin the Bold was an American syndicated newspaper strip by Kreigh Collins, about an Irish shepherd who had swashbuckling adventures in the service of Henry VIII. The strip grew out of Collins' strip Mitzi McCoy, about an American socialite, which began in 1948. Two years into the strip's run, Mitzi's ancestor Kevin was mentioned, and the strip abruptly became a historical adventure strip called Kevin the Bold, until 1968, when it switched focus again, becoming contemporary seafaring adventure Up Anchor.
References
Edit
Online reference
Edit
Ad blocker interference detected!
Wikia is a free-to-use site that makes money from advertising. We have a modified experience for viewers using ad blockers

Wikia is not accessible if you've made further modifications. Remove the custom ad blocker rule(s) and the page will load as expected.