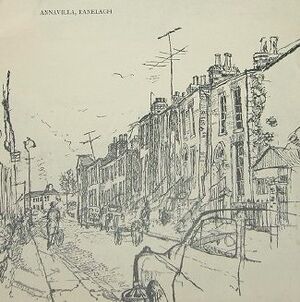 Liam C. Martin (1934-1998) was an illustrator and artist. He is famous for his sketch books Liam C. Martin's Dublin Sketch Book and Know Your Dublin: A Visual Guide, which he collaborated with J.B.Malone. The Sketch Book was published by the Dolmen Press in association with the Irish Georgian Society in 1962 and carries an introduction by Terence De Vere White.
White remarks that "Dublin has never had its Canaletto" and he commends Martin's drawings for their "mystery tour quality" and salutes his work in preserving for posterity "what the bull-dozer threatens". Martin specialised in topographical art and a lot of his work is buildings and streets in Dublin which have changed drastically such as the Gasometer, Camden Street, the Old Gaol in Smithfield, Fitzwilliam Street, Horseman's Row (no longer in existence) and Winetavern Street.
Liam C. Martin Bibliography
Edit
Liam C. Martin's Dublin Sketch Book (1962)
In Dublin Again with Liam C. Martin (1965)
The World of Brendan Behan (1965)
Know Your Dublin : A Visual Guide (1969)
Liam C. Martin's Dublin Shopfronts and Street Scenes (1974)
A look at legal Dublin with Liam C. Martin (1975)
A Visual tour of Dublin Hospitals (1975)
Dublin in decay : "a book of memories" with pen and ink drawings (1976)
Ad blocker interference detected!
Wikia is a free-to-use site that makes money from advertising. We have a modified experience for viewers using ad blockers

Wikia is not accessible if you've made further modifications. Remove the custom ad blocker rule(s) and the page will load as expected.