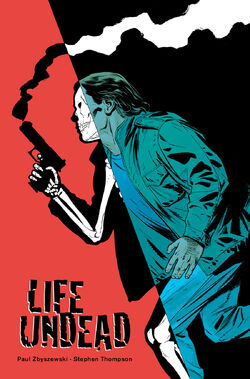 Life Undead is a 48-page graphic novel by writer Paul Zbyszewski, best know as a screenwriter on the TV series Lost, and artist Stephen Thompson, published by IDW Publishing in 2009. A supernatural crime story, it follows a New Orleans detective who, in the course of investigating a Haitian drug lord, becomes a zombi in the Voodoo tradition.
External links
Edit
Online reference
Edit
Ad blocker interference detected!
Wikia is a free-to-use site that makes money from advertising. We have a modified experience for viewers using ad blockers

Wikia is not accessible if you've made further modifications. Remove the custom ad blocker rule(s) and the page will load as expected.