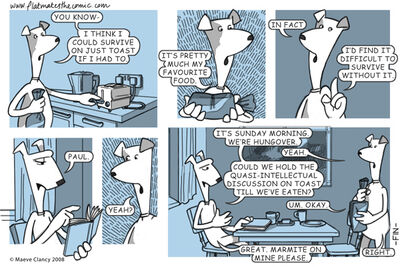 Maeve Clancy is an illustrator, animator and creator of the weekly webcomic Flatmates. She is also working on a forthcoming graphic novel, working title Inheritance.
She taught a workshop on making pop-up books at the 2009 24 Hour Comics Day in Dublin. She made the pop-up books in the video for "Lille", and the cut paper backdrops in the video for "I Don't Know", by Irish singer-songwriter Lisa Hannigan. She was production designer for the RTÉ comedy series Dan & Becs (2009) and the TG4 documentary series Blood and Ink (2006)
In 2010 she published a collected edition of Flatmates through Verbal Press, and a short, limited edition anthology, Threes, with Cliodhna Lyons and Philip Barrett.
Beginning in June 2011, she started publishing an autobiographical webcomic about her travels in Greece, A Hibernian in Hellas.
External links
Edit
Online reference
Edit
Ad blocker interference detected!
Wikia is a free-to-use site that makes money from advertising. We have a modified experience for viewers using ad blockers

Wikia is not accessible if you've made further modifications. Remove the custom ad blocker rule(s) and the page will load as expected.