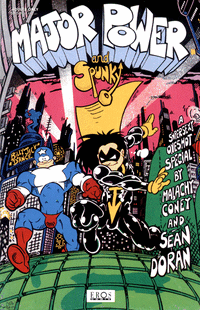 Major Power and Spunky is a gay-themed superhero parody written by Malachy Coney and drawn by Sean Doran. The characters first appeared in a small press comic around Belfast in 1992, appeared in Gay Comix #20 in 1993, in their own one-off special from Fantagraphics' Eros imprint in the US in 1994, and in Buddies #4-5 in 1995. They also appeared in Belfast arts/culture paper dv8 in the mid-90s, and a spin-off, Quiteaguy, was created in 1994.
External links
Edit
Ad blocker interference detected!
Wikia is a free-to-use site that makes money from advertising. We have a modified experience for viewers using ad blockers

Wikia is not accessible if you've made further modifications. Remove the custom ad blocker rule(s) and the page will load as expected.