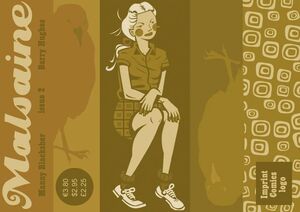 Malsaine was a comic by American writer Manny Blacksher and Irish artist Barry Hughes, published by Imprint Comics in Dublin in 2005. It was printed in full colour and oriented in landscape format. The first issue follows a teenage boy called James on his first day in a new school in a southern American town called Malsaine, during which he challenges his teacher in a class discussion of Huckleberry Finn, meets a pretentious jazz afficionado called Lucius, and gets invited to a concert. A second issue was written and drawn, but I haven't been able to find out if it was ever published.
Publisher Dave Hendrick describes it thus: "The book's about all those things we went through as adolescents, finding your identity, falling in love/lust, isolation and rebellion, there's also a hefty amount of magic realism, ghosts, jazz and foul mouthed ravens to keep everyone happy."[1]
References
Edit
↑ Review by Sean Maher, 3 May 2005
Online reference
Edit
Ad blocker interference detected!
Wikia is a free-to-use site that makes money from advertising. We have a modified experience for viewers using ad blockers

Wikia is not accessible if you've made further modifications. Remove the custom ad blocker rule(s) and the page will load as expected.