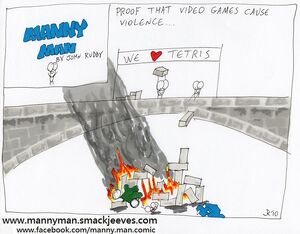 Manny Man is a webcomic by Letterkenny artist John Ruddy, published on SmackJeeves since August 2010, poking fun at pop culture subjects including Star Wars, Pokemon, Lord of the Rings and Jedward.
As well as the webcomic, Manny Man also does world photo tours called Manny Man On Tour where he is photgraphed in famous places all over the world!
John has also published Manny Man Does Shakespeare, a series of study aids for the plays in printed comic form, available in local shops in Letterkenny. The plays include Hamlet, The Merchant of Venice and Macbeth. Romeo & Juliet is currently in the pipeline.
External links
Edit