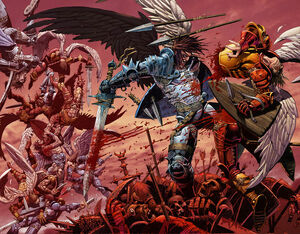 Martin Brennan (b. Downpatrick, 24 November 1977) is a video games scriptwriter & narrative designer who has previously worked for Square Enix (Hitman: Absolution ).  Martin is currently developing several feature films, and his first comic series, 13 Coins, is to be released from Corinthian in October 2013.  Martin is co-writing the 13 Coins comic series with Michael B. Jackson, with artwork by Simon Bisley, and coloured by Ryan Brown.
References
Edit
Online reference
Edit
Ad blocker interference detected!
Wikia is a free-to-use site that makes money from advertising. We have a modified experience for viewers using ad blockers

Wikia is not accessible if you've made further modifications. Remove the custom ad blocker rule(s) and the page will load as expected.