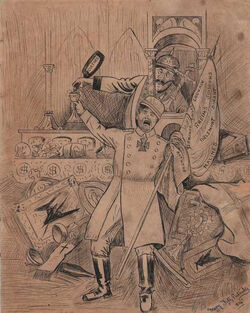 Mary Fitzpatrick O'Brien (b. Dublin, c. 1888, d. March 1919), daughter of Thomas Fitzpatrick, produced manuscript illuminations in collaboration with her father, and contributed cartoons to his his magazine The Lepracaun. When Thomas died in 1912, she took over as proprietor and editor, until her own death in 1919.
References
Edit
Biography at Scoop! (subscription required)
Ad blocker interference detected!
Wikia is a free-to-use site that makes money from advertising. We have a modified experience for viewers using ad blockers

Wikia is not accessible if you've made further modifications. Remove the custom ad blocker rule(s) and the page will load as expected.