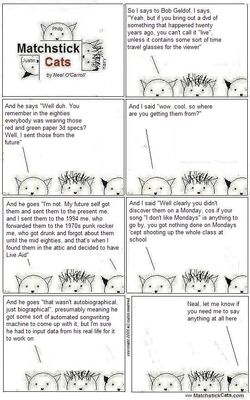 Matchstick Cats is a webcomic about three cats talking nonsense, by Neal, host of Into Your Head podcast. It originally ran from 2004 to 2007, then resumed in September 2012. In 2010 it was briefly relaunched as "Schrodinger's Cats" but has now returned to the origininal name. Most strips resuse the same few basic images, only changing the dialogue.
External links
Edit
Ad blocker interference detected!
Wikia is a free-to-use site that makes money from advertising. We have a modified experience for viewers using ad blockers

Wikia is not accessible if you've made further modifications. Remove the custom ad blocker rule(s) and the page will load as expected.