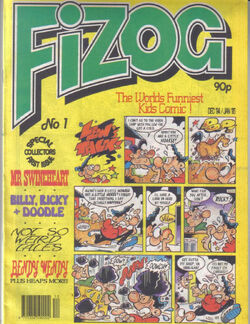 Mervyn Johnston is a comics writer and artist from Belfast. He started out on Ximoc in the early 1980s, and was soon working on British humour titles. He has drawn "The Badd Lads" for the Beezer (after 1987), "The Bumpkin Billionaires" for Whizzer and Chips (1990) and "Crazy Characters" for Buster (1990-1998). He drew for and co-financed the kids' humour comic Fizog, which ran for three issues in 1994-1995, and he currently draws "Pig Brother" for Toxic.
References
Edit
Ad blocker interference detected!
Wikia is a free-to-use site that makes money from advertising. We have a modified experience for viewers using ad blockers

Wikia is not accessible if you've made further modifications. Remove the custom ad blocker rule(s) and the page will load as expected.