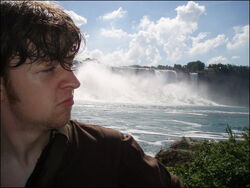 Michael Arbuthnot (b. 15 December 1986) is a cartoonist based in Ballymena, County Antrim, and the creator of the parody superhero team webcomic The Amazing Squad, which ran on ComicGenesis from 2004 to 2005. Initially a gag strip based on stock sprites, it developed into a more story-oriented hand-drawn series. The strip ended in 2005, while Michael was studying for his A-Levels. He is now training to be an architect, but hopes to return to cartooning in the future.
External links
Edit
Ad blocker interference detected!
Wikia is a free-to-use site that makes money from advertising. We have a modified experience for viewers using ad blockers

Wikia is not accessible if you've made further modifications. Remove the custom ad blocker rule(s) and the page will load as expected.