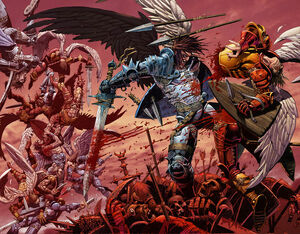 Michael B. Jackson is a writer of screenplays, computer games and comics. He wrote the short film Soldier (2005), and is co-writing a graphic novel, 13 Coins, forthcoming from Berserker Comics, with Martin Brennan and Terry Loane, drawn by Simon Bisley, inked by Andy Brown and coloured by Ryan Brown.
References
Edit
Online reference
Edit
Ad blocker interference detected!
Wikia is a free-to-use site that makes money from advertising. We have a modified experience for viewers using ad blockers

Wikia is not accessible if you've made further modifications. Remove the custom ad blocker rule(s) and the page will load as expected.