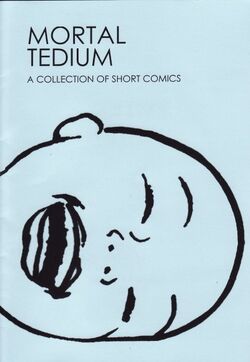 Mortal Tedium is a collection of short comics created and published by John Robbins in 2011.
Seven pithy tales of precarious footholds in life which, with oddly purposeful frankness, reveal home truths and fragile pretences. For instance: in "The Receiver", a young woman goes from sovereign individual to sorry individual as both her PC and her life are remotely tweaked by computer support. Other stories include "Dog-Eared" and "The Man on the Monitor".
External links
Edit
Ad blocker interference detected!
Wikia is a free-to-use site that makes money from advertising. We have a modified experience for viewers using ad blockers

Wikia is not accessible if you've made further modifications. Remove the custom ad blocker rule(s) and the page will load as expected.