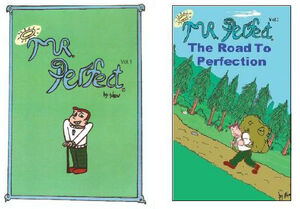 Mr Perfect is an Irish comic book by Nen, published by originalwriting.ie in two volumes: Mr Perfect Volume One (July 2009), and Mr Perfect Volume Two: The Road to Perfection (November 2009). The Comic centres around the everyday lives of an Irish family. The main character is Chester Wilkinson, a psychiatrist who is known as "Mr Perfect" due to his over all good nature and high level of morality. The comic is like a mix of The Simpsons and The Flintstones.
External links
Edit
Ad blocker interference detected!
Wikia is a free-to-use site that makes money from advertising. We have a modified experience for viewers using ad blockers

Wikia is not accessible if you've made further modifications. Remove the custom ad blocker rule(s) and the page will load as expected.