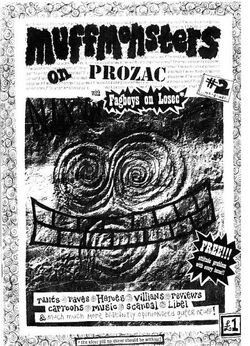 Muffmonsters on Prozac was a queerzine published in Belfast. The authors were Ruth McCarthy and Terence McGaughey. There were at least three issues, the first published in May 1996, and the second in July 1997. Comic strips featured included "The Chums", "Juvenile Boo-Hoo" and "Sister Rage and Novice Nun". It also included articles New York, Xena, Lydia Lunch and Christian literature.
References
Edit
Ad blocker interference detected!
Wikia is a free-to-use site that makes money from advertising. We have a modified experience for viewers using ad blockers

Wikia is not accessible if you've made further modifications. Remove the custom ad blocker rule(s) and the page will load as expected.