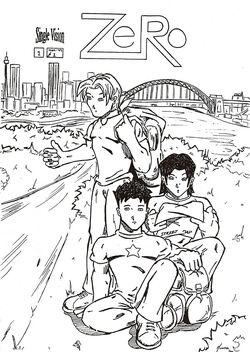 Murra MacRory, born 10 May 1977, was raised and still lives in Dublin. He was awarded the North Dublin Young Artist of the Year award in 1995 and shortly after began writing and drawing his own comics. He self published 19 issues of the soap opera/drama comic Zero under his own label Single Vision Studios between 1999 and 2001. He was interviewed about Zero and the Irish domestic comic market for an article in The Irish Times in May 2000.
In 2001 MacRory completed his BA dissertation on comic art titled Beyond Pop: Narrative, Censorship and Self-Expression in Contemporary American Comic Art. A critical analysis of comic art as a narrative form, it questions the role of censorship in comic art's creation and the freedom for self expression available to artists within the confines of the medium. A copy of the manuscript is held in the library of Trinity College Dublin.
In 2002 he wrote a crime story, "Duplicitous", drawn by Stephen Thompson, for the anthology Naked Lunch. For a short period in 2003/04 he worked with a number of guest artists on a web comic of his own creation, Magical Monkey Boy. This was put on hold after artists failed to meet their deadlines, and MacRory decided to explore a different format for the presentation of the story. This period saw him work with long-term collaborators Fco and Ivan Plascencia. MacRory is also responsible for co-creating two creator owned projects with the Plascencia cousins which are still in various stages of development.
At the 2006 24 Hour Comics Day event in Dublin, he created 2 short stories, Magical MonkeyBoy and Zero Men. At present, he is writing and drawing the webcomic Oscar Nebula and painting on a commission only basis.
References
Edit
External links
Edit
Ad blocker interference detected!
Wikia is a free-to-use site that makes money from advertising. We have a modified experience for viewers using ad blockers

Wikia is not accessible if you've made further modifications. Remove the custom ad blocker rule(s) and the page will load as expected.