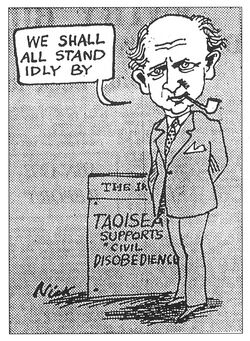 Nicholas K. Robinson ("Nick") is an Irish author, historian, solicitor and political cartoonist. He is the husband of Mary Robinson, the former President of Ireland.
He was educated at Trinity College Dublin, where he took a degree in Law. Over the past three decades, has helped establish numerous bodies, among them the Irish Architectural Archive (with Edward McParland), the Birr Scientific and Heritage Foundation, the Irish Landmark Trust (of which he a Trustee, ex-officio President & Patron) and (with his wife Mary) the Irish Centre for European Law at Trinity College.
His books include Edmund Burke: a Life in Caricature (1996), reviewing the life and career of the Anglo-Irish statesman through contemporary political cartoons.
References
Edit
Online reference
Edit
Ad blocker interference detected!
Wikia is a free-to-use site that makes money from advertising. We have a modified experience for viewers using ad blockers

Wikia is not accessible if you've made further modifications. Remove the custom ad blocker rule(s) and the page will load as expected.