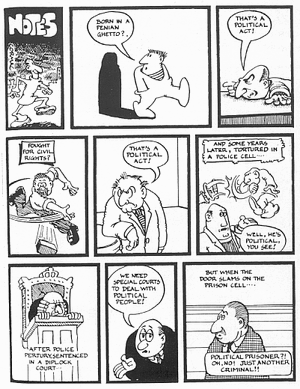 Notes by Cormac was a political strip that ran in Republican News, a Belfast weekly set up by the Belfast brigade of the provisional IRA and edited by Danny Morrison, from 1976 until the paper merged with the national Sinn Féin paper An Phoblacht in 1979, and thereafter in the merged An Phoblacht/Republican News until 2004. It generally followed the Sinn Féin line.
Ad blocker interference detected!
Wikia is a free-to-use site that makes money from advertising. We have a modified experience for viewers using ad blockers

Wikia is not accessible if you've made further modifications. Remove the custom ad blocker rule(s) and the page will load as expected.