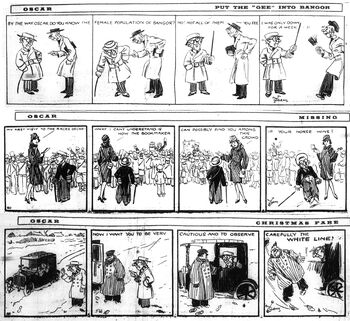 Oscar was a daily comic strip by Bill Glenn which ran in the Belfast Telegraph from 28 September 1925 until c. 1936. It was also syndicated to papers in South Africa and Australia. Oscar was a little man with a long nose and baggy trousers, whose witticisms often annoyed the fashionably-dressed women he tried to chat up. After Glenn met his future wife Dorothea, Oscar acquired a glamorous wife. She was also the inspiration for Glenn's strip Dorothea, which he drew for the Daily Mail from 1936 to 1939.
External links
Edit
Ad blocker interference detected!
Wikia is a free-to-use site that makes money from advertising. We have a modified experience for viewers using ad blockers

Wikia is not accessible if you've made further modifications. Remove the custom ad blocker rule(s) and the page will load as expected.