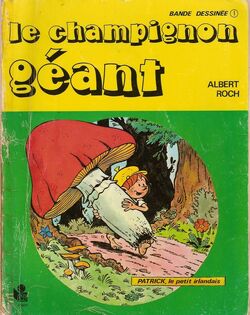 Patrick, le petit irlandais ("Patrick, the little |Irish boy") is a comic by Belgian cartoonist Albert Roch. Four volumes were published by Lito-Paris: Le champignon géant ("the giant mushroom", 1975), La harpe d'or ("the golden harp", 1976), Le trésor de la tour ("the treasure of the tower", 1976), and Le génie venue de la mer ("the genie come from the sea", 1976).
External links
Edit
Online reference
Edit
Ad blocker interference detected!
Wikia is a free-to-use site that makes money from advertising. We have a modified experience for viewers using ad blockers

Wikia is not accessible if you've made further modifications. Remove the custom ad blocker rule(s) and the page will load as expected.