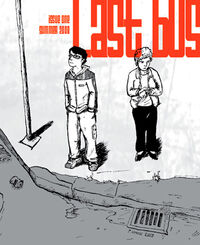 Patrick Lynch is a cartoonist, illustrator and graphic designer from Dublin, and one half, with his partner Katie Blackwood, of small publisher Cardboard Press.
His comics, generally in a small-scale, slice-of-life vein, include:
Together with Blackwood and Philip Barrett, he is one of the founders of Edition Book Arts. He helps to run the monthly Dublin Comic Jam, and has contributed to the Irish Comic Challenge website. He is currently working on Big Jim, a graphic novel for The O'Brien Press with writer Rory McConville, about trade union leader Jim Larkin.
External links
Edit
Ad blocker interference detected!
Wikia is a free-to-use site that makes money from advertising. We have a modified experience for viewers using ad blockers

Wikia is not accessible if you've made further modifications. Remove the custom ad blocker rule(s) and the page will load as expected.