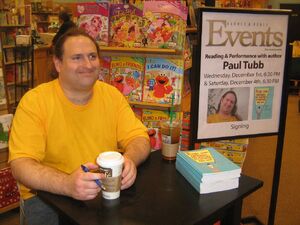 Paul H. Tubb is an English-born, but Dublin-based, comic poet/songwriter and cartoonist.
He is the creator of the webcomic Stanley.
Paul started off writing comic/nonsense verse for children, and when he showed them to others, they all said, "These are good, you should find an illustrator." Having no idea how to find an illustrator, he began illustrating his poems himself. He was then informed that his illustrations weren't bad, and this led to him creating gag cartoons and picture books, before using his new found, "not bad" illustrating skills to help him turn his lifelong love of comics into the creation of his first comic strip.
External Links
Edit
Ad blocker interference detected!
Wikia is a free-to-use site that makes money from advertising. We have a modified experience for viewers using ad blockers

Wikia is not accessible if you've made further modifications. Remove the custom ad blocker rule(s) and the page will load as expected.