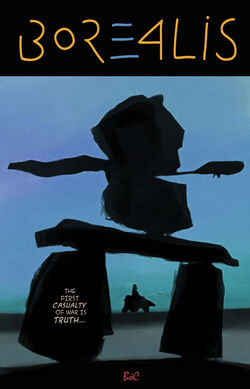 Paul J. Bolger, filmmaker, musician and cartoonist, is a graduate of WIT Ireland and has taught animation at Ballyfermot and Dun Laoghaire.
In the 1990s he owned and ran Dagda Film Ltd., an animation studio based in Dublin. He has worked on a number of animated films, including The Land Before Time (1988), All Dogs Go to Heaven (1989), Cool World (1992), Help I'm a Fish (2000) and Carnivale (2000). He is the director of the animated feature Happily N'Ever After (2007) and the short films Comb (2010) and Hamster Heaven (2010). He currently runs Pillarstone Productions, and is working on a forthcoming live action feature based on the legendary hero Cú Chulainn, entitled Hound, which he is also adapting as a comic.
He has two comics on his website: Anatomy Class, co-created by Adrianne Ambrose, about a drug-addicted medical student visted by the corpses he has acquired for his medical school, and Borealis, co-created by Jerr O'Carroll, an adventure set in a post-apocalyptic future.
As a singer-songwriter, he released an album, The Moss House, and an EP, Peacemaker, in the late 1990s.
External links
Edit
Online reference
Edit
Ad blocker interference detected!
Wikia is a free-to-use site that makes money from advertising. We have a modified experience for viewers using ad blockers

Wikia is not accessible if you've made further modifications. Remove the custom ad blocker rule(s) and the page will load as expected.