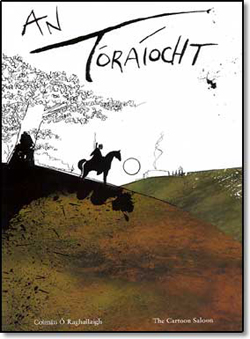 Paul Young is a comics artist, animator and political cartoonist. He studied classical animation at Ballyfermot College in Dublin. In 1998 he founded the Cartoon Saloon animation studio with fellow Ballyfermot students Tomm Moore and Nora Twomey. He is the artist of An Tóraíocht ("the pursuit", 2002), an Irish language comic written by Colmán Ó Raghallaigh and published by Cló Mhaigh Eo. Based on a story from Irish mythology, it concerns Gráinne, the intended bride of the aging hero Fionn mac Cumhaill, who elopes with the young warrior Diarmaid Ó Duibhne, pursued by Fionn. He currently lives in Kilkenny, and draws political cartoons for the Kilkenny Bugle.
External links
Edit
Online reference
Edit
Ad blocker interference detected!
Wikia is a free-to-use site that makes money from advertising. We have a modified experience for viewers using ad blockers

Wikia is not accessible if you've made further modifications. Remove the custom ad blocker rule(s) and the page will load as expected.