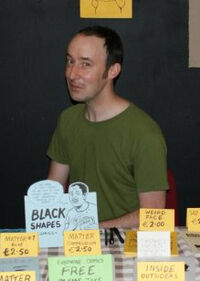 Philip Barrett is a comics writer-artist from County Donegal who, after a time resident in Canada, is now based in Dublin. His work mainly consists of contemporary short stories drawn in a clean-lined brush style. His comics include:
With Patrick Lynch and Katie Blackwood, he is one of the founders of Edition Book Arts.
External links
Edit
Ad blocker interference detected!
Wikia is a free-to-use site that makes money from advertising. We have a modified experience for viewers using ad blockers

Wikia is not accessible if you've made further modifications. Remove the custom ad blocker rule(s) and the page will load as expected.