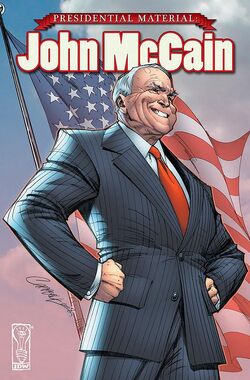 Presidential Material: John McCain is a biographical comic of US presidential candidate John McCain, written by Andy Helfer, drawn by Stephen Thompson, coloured by Len O'Grady and published by IDW publishing in 2008, with a cover by J. Scott Campbell. It was also published as a flip-book, together with Presidential Material: Barack Obama, written by Jeff Mariotte, drawn by Tom Morgan and coloured by O'Grady.
External links
Edit
References
Edit
Online reference
Edit
Ad blocker interference detected!
Wikia is a free-to-use site that makes money from advertising. We have a modified experience for viewers using ad blockers

Wikia is not accessible if you've made further modifications. Remove the custom ad blocker rule(s) and the page will load as expected.