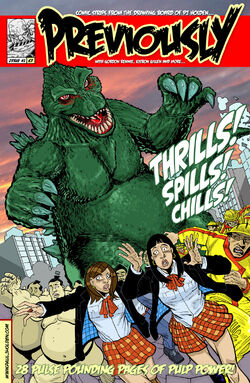 Previously is a comic by P. J. Holden and various writers, collecting his small press work from 1999-2007, self-published by Holden in 2007.
Contents are:
"The Tallyman", written by Gordon Rennie, from Violent! #1, 1999
"Bertie's Backyard Bomber", written by Paul Glasswell, from Solar Wind, 2004
"Broken Claw: Hot Date Tokyo", written by Stu Taylor, from Neo #1, 2004
"The Adventures of Rogue's Secret Other Biochip Buddy", written by Gordon Rennie, 2002
"Horror", written by Kieron Gillen, 2006
"Stripped Bare", written by Jaspre Bark, 2004
"Dark Judge Wedgie", written by Gordon Rennie, 2003
"Facerot", written by Paul Scott, 2005
"Rebel Strip", written by P. J. Holden, 2006
"Bulldog: Forgetful Snow", written by Jason Cobley, 2003
"Strontium Dog: The Day the Dog Died" written by Kelt, 2003
"Cages", written by Nick Bronlow, 2004
External links
Edit
Ad blocker interference detected!
Wikia is a free-to-use site that makes money from advertising. We have a modified experience for viewers using ad blockers

Wikia is not accessible if you've made further modifications. Remove the custom ad blocker rule(s) and the page will load as expected.