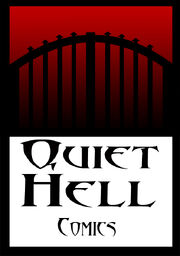 Quiet Hell Comics is an small Irish independent comic book company set up several years ago. Their first graphic novel The Man with No Libido was released in 2011. It was created by an all Irish team with Jason Browne writing the script, Stephen Kearney doing the art and inking and Billy Browne lettering it.
Their second comic book was released in 2017 called H.P. Lovecraft's The Grave. It was written by Jason Browne, drawn and inked by Liam Naughton and coloured by Chris O'Halloran with Robin Jones lettering.
External links
Edit
Ad blocker interference detected!
Wikia is a free-to-use site that makes money from advertising. We have a modified experience for viewers using ad blockers

Wikia is not accessible if you've made further modifications. Remove the custom ad blocker rule(s) and the page will load as expected.