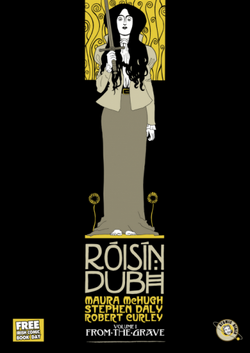 Róisín Dubh is a forthcoming historical fantasy series, written by Rob Curley and Maura McHugh, drawn by Stephen Daly (issue 1) and Stephen Byrne (issues 2 and 3), to be published by Atomic Diner. A preview was published for Free Comic Day on 15 May 2010, and the first issue proper was published in June 2011.
It's 1899, and the cusp of a new century in Ireland. 18-year-old Róisín Sheridan harbours ambitions to become a rival of the magnificent English actress Ellen Terry, if she can persuade her father that a career on the stage is ladylike. Her plans are destroyed one horrific evening when she and her parents are viciously attacked by Abhartach: a neamh-mairbh who has been released after 1,400 years in the ground. To survive and seek revenge Róisín must take up a new calling, one determined by ancient gods whose agendas are not clear, and which will place her entire existence in jeopardy.
External links
Edit
Ad blocker interference detected!
Wikia is a free-to-use site that makes money from advertising. We have a modified experience for viewers using ad blockers

Wikia is not accessible if you've made further modifications. Remove the custom ad blocker rule(s) and the page will load as expected.