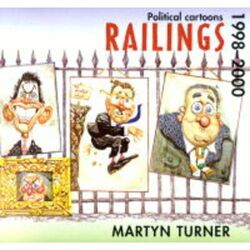 Railings: Political Cartoons 1998-2000 is a collection of political cartoons by Martyn Turner from the Irish Times, published by Blackstaff Press in 2000. It covers topics such as financial scandals in the Republic, the break-up of the Northern Irish peace process, the arrival of Tony Blair in Britain, wars in the former Yugoslavia and the sexual pecadilloes of US president Bill Clinton.
Ad blocker interference detected!
Wikia is a free-to-use site that makes money from advertising. We have a modified experience for viewers using ad blockers

Wikia is not accessible if you've made further modifications. Remove the custom ad blocker rule(s) and the page will load as expected.