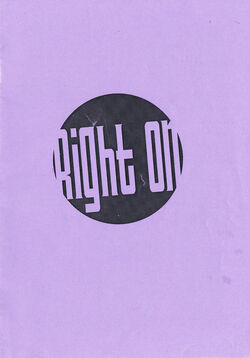 Right On is a slim anthology of short strips by Patrick Lynch, published to coincide with 24 Hour Comics Day in October 2008. The four-page strip "Interruption" had previously appeared in the Free Irish Comic Book Day anthology, and the one-page "Urban Decay" had previously appeared online on the Irish Comic Challenge. The package was made up with a half-page strip on the contents page and a one-pager on the back page, both original.
External links
Edit
Ad blocker interference detected!
Wikia is a free-to-use site that makes money from advertising. We have a modified experience for viewers using ad blockers

Wikia is not accessible if you've made further modifications. Remove the custom ad blocker rule(s) and the page will load as expected.