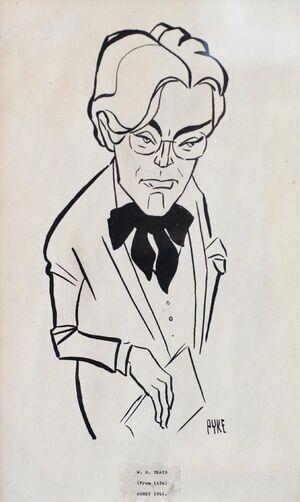 Robert Pyke (1916-1987) was a caricaturist from Dublin. He was educated at the Dublin Metropolitan School of Art, and worked in Britain for a time sketching film stars for newspapers, magazines and publicity sheets. He returned to Dublin, where he survived by drawing advertisements in newspapers and painting backdrops for the shows of comedian Jimmy O'Dea. In the 1940s and 50s he established his reputation as a caricaturist, turning down invitations to work in Fleet Street in favour of remaining in Dublin. His work was regularly featured in the Evening Press in the 1950s.
References
Edit
Theo Snoddy, Dictionary of Irish Artists: 20th Century, Merlin Publishing, 2002
Ad blocker interference detected!
Wikia is a free-to-use site that makes money from advertising. We have a modified experience for viewers using ad blockers

Wikia is not accessible if you've made further modifications. Remove the custom ad blocker rule(s) and the page will load as expected.