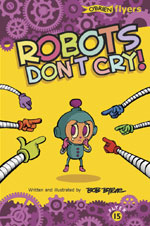 Robots Don't Cry is a children's picture book by Bob Byrne, publiushed by The O'Brien Press in 2006.
It tells the story of Bimbot, a little robot who is thrown out of the tree-house gang for being a crybaby. Robots don't cry, Rusty, Klunk and Klang tell him. In the woods Bimbot meets a skunk with no smell, a bee with no stripes and a bear who is afraid of heights. Can his new friends help him out?
External links
Edit
Ad blocker interference detected!
Wikia is a free-to-use site that makes money from advertising. We have a modified experience for viewers using ad blockers

Wikia is not accessible if you've made further modifications. Remove the custom ad blocker rule(s) and the page will load as expected.