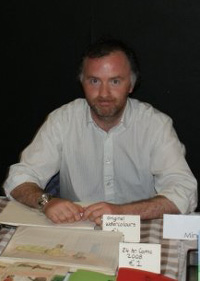 Ronan Kennedy is a cartoonist from Dublin, currently living in Adelaide, Australia,  and is the creator of Tales from Mugland (1998-2002), Mindpuss (2009) and Mindpuss 2 (2013).  He is also a contributor to the Irish Comic Challenge.
He has contributed stories to free comic book day anthologies since 2008, as well as being involved in the Romantic Mayhem and Courageous Mayhem anthologies.
He is currently working on Mindpuss 3.
External links
Edit
Ad blocker interference detected!
Wikia is a free-to-use site that makes money from advertising. We have a modified experience for viewers using ad blockers

Wikia is not accessible if you've made further modifications. Remove the custom ad blocker rule(s) and the page will load as expected.