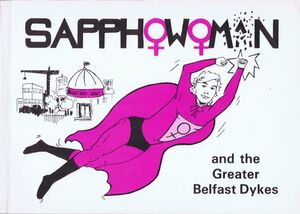 Sapphowoman and the Greater Belfast Dykes, created by Gaye Mae Kincaid and published by Meadhbh Publishing, Belfast, 1989. 61 pages, A5 landscape, squarebound, black and white, two colour (black and purple) cover, ISBN 1 872139 01 9.
Sapphowoman is Pearl Diver, cub reporter for the radical tabloid The Monthly Cycle, who gained superpowers after an encounter with three witches while out in the country at Uptomashuckin Bog with her first girlfriend, Mona. She has an unrequited crush on her editor, Maria Marauder, and an unwanted admirer, Bertha. Her colleagues at The Monthly Cycle include the scatty Penny Less (who complains that her vampire girlfriend, Lucretia, only wants to have sex once a month), the closeted and not-very-radical Viola Niceposie, and the former US Army sergeant Milly Tent, whose vigilante group, the Livid Lezzies, have moved on from torching porn shops to blowing up bridal boutiques.
Ad blocker interference detected!
Wikia is a free-to-use site that makes money from advertising. We have a modified experience for viewers using ad blockers

Wikia is not accessible if you've made further modifications. Remove the custom ad blocker rule(s) and the page will load as expected.